The delicious chicharrón, and if it is from Cusco, better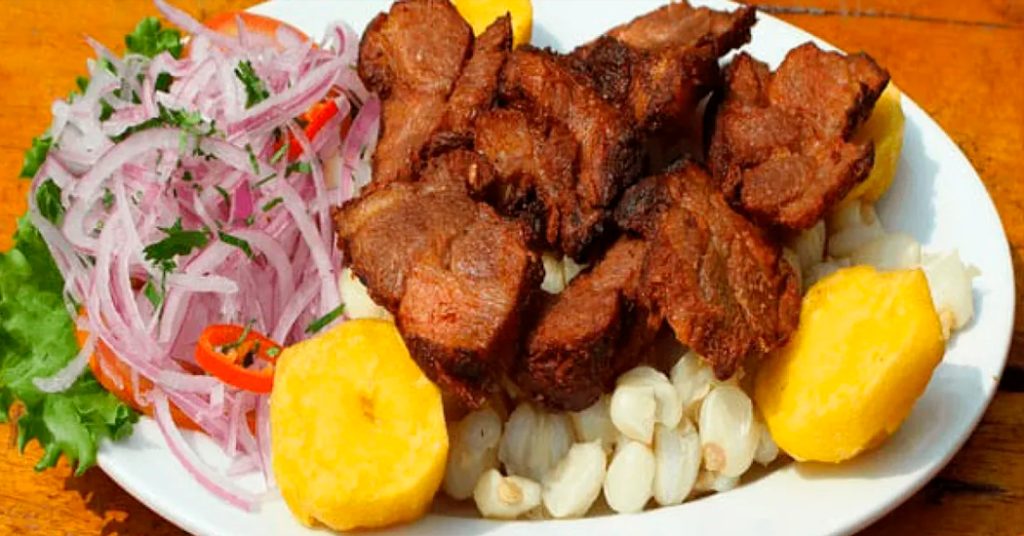 The history of pork rinds begins with the blacks brought to the colony by the Spanish because these people had customs of raising and "fixing pigs", after they, the blacks became independent from the Spanish yoke, fleeing to the mountains they dedicated themselves to raising pork. pig cattle.
It originates from ancient times and appears in order to provide the individual with the necessary fat for the lubrication of their food, whose derivative is butter.
In those days, butter represented the primary element for greasing food, with pork rinds being the secondary product.
In Cusco, the paradise of chicharrón is Saylla, where there is a diversity of places offering the best fried pork meat in pleasant environments with green areas all year round. There are 26 establishments that serve permanently; Approximately 87 people work in them, 3 in each store, including the owners.
On the occasion of the National Holidays, the pork rind festival is held, organized by the Cusco Regional Directorate of Foreign Trade and Tourism (DIRCETUR), the Regional Health Directorate (DIRESA) and the Guamán Poma de Ayala Organization. At this fair, residents and tourists from the Saylla district gather to enjoy this delicious dish.
The exhibition and sale of the dishes based on:
Pork
Potatoes
Nickname
Spearmint
Onion
Chili
Aniseed
It has guarantees in the preparation, since the housewives were previously trained in handling and production.
The meat tastes good, the texture is juicy, and the portion is more than enough for one person. The delicious tocto that is served at the beginning is reminiscent of pork rinds but with less flavor. The chicharrón portion comes with mote, sliced fries and onion sarsa with lemon verbena.