Choquequirao in 5 days visit: Cachora, San Pedro, the deepest Canyon in the world, Choquequirao, Saywite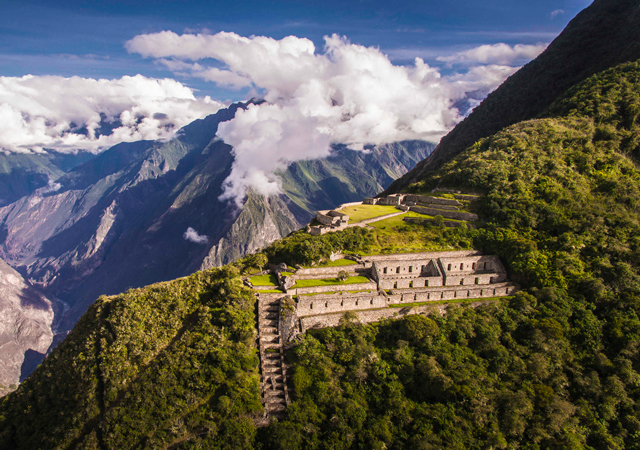 Considering as the last Inca refuge that resisted the Spanish conquerors for decades. It is located at the top of the Apurimac canyon at an altitude of 3,030 meters above sea level, in a strategic geographical area between the Andean mountains and the jungle, difficult to access but not impossible, much less no longer exciting for anyone who likes the adventure.
Pick up from your hotel from 04:30 hrs. Departure at 05:00 hrs, in private transport towards Cachora, a small town located at an altitude of 2800 meters above sea level, three hours from the imperial city of Cusco, on the way we can observe different landscapes of different climates until we reach San Pedro de Cachora where We will get our equipment ready to begin our walk that will last 7 to 8 hours. In this trajectory we will be able to observe a diversity of flora and fauna that beautify our path. We will reach the Capuliyoc viewpoint where we will be able to observe the deepest canyon in the world, the Apurimac, and where the majestic Apurimac passes and it is here where we will have our first lunch, we will also have the first views of Choquequirao and then continue with the journey until we reach Chikiska where we will camp.

At dawn and after finishing our breakfast we will continue our trip, this time we will have to ascend to reach Maranpata. We will be after approximately 2 hours of walking which will be accompanied by the nature that it possesses and which will surprise us, it is here where we will have the lunch to immediately arrive in Choquequirao where we will have the guided tour, after this we will agree with the group to spend the night and it is possible to camp in Maranpata or in Choquequirao itself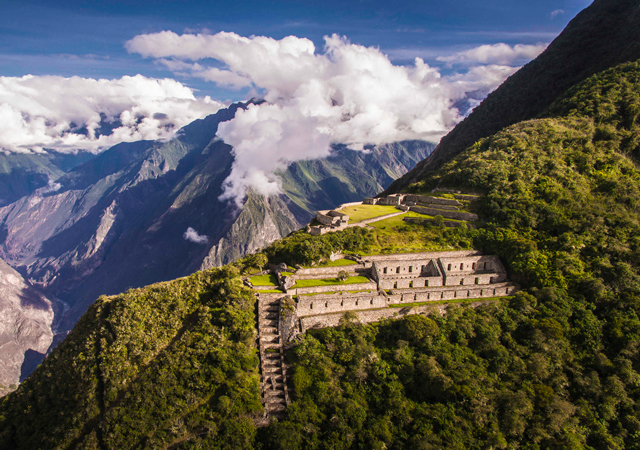 After breakfast we return along the same path descending to the Apurimac River and then to Chiquisca where they are waiting for us with lunch. Finishing lunch we will prepare to continue our path that this time will take us to Aguada that is at 2600 meters above sea level, this is where we will spend the night.
After breakfast we will prepare to continue our trip towards Cachora, this will take us 2 hours, after arriving in Cachora we will go to the archaeological group of Saywite and from there we will pass, towards the baths of conoq, we will spend the night in this place.

Very early after breakfast we head towards the city of Cusco.
THE TOUR SERVICE INCLUDES
■

Hotel pickup

■

Cusco to Cachora - Conoq-Cusco bus ride

■

Choquequirao entrance ticket

■

Q'onoq baths entrance ticket

■

Saywite archaeological group entrance ticket

■

Professional guide (English - Spanish)

■

Camping equipment

■

Sleeping mats

■

Meals (4 breakfasts, 4 lunches, 4 dinners)

■

Horses (carry the equipment and food)
The tour DOES NOT INCLUDE
■

First breakfast last lunch

■

Does not include sleeping bag
WE RECOMMEND BRINGING THE FOLLOWING PERSONAL EQUIPMENT
■

Sleeping bag

■

Additional small backpack

■

Trekking shoes

■

Bottled water

■

Insect repellent

■

Sunscreen

■

Lightweight clothing for the day and warm clothing for the night

■

Sunglasses
■

Start date of the tour.

■

Names (as they appear on the passport).

■

Surnames (as they appear on the passport).

■

Scanned Passports or IDs (Required).

■

Bring a copy of the Immigration Card (TAM) that will be given to you upon entering Peru.

■

Nationality.

■

Passport number.

■

Date of Birth.

■

Name of your hotel in Cusco.

■

Contact phone numbers.

■

50% payment of the tour cost.

■

Prices are promotional and for cash payments. If paying with a credit card, an 8% surcharge will be applied to the total amount.

■

Minimum passport validity of 6 months.
Book your tour or make your inquiries