Inca Trail through Nevado Salkantay to Machu Picchu 4 days with Sky Camp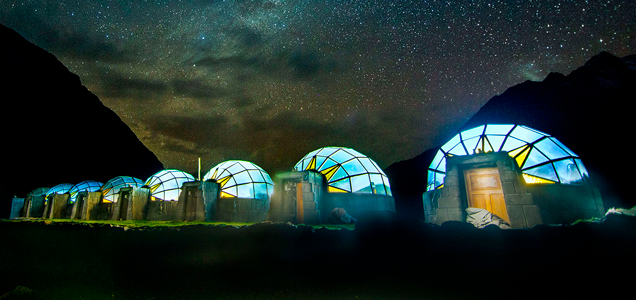 FIRST DAY CUSCO | CHALLACANCHA - SORAYPAMPA "SKY CAMP" - HUMANTAY LAGOON
We start the day with your pick up from your respective accommodation from 4:00 to 4:30 a.m. approx. Leaving Cusco, we will go to the town of Mollepata (approx. 2:30 hours after leaving Cusco), there will be a short stop of 30 to 45 minutes to have breakfast. Once breakfast time is over, we will continue to the place called Challacancha, the starting point of the walk to Soraypampa "SKY CAMP" (duration 3:30 hours approx. / 8 km).

SECOND DAY SORAYPAMPA | ABRA SALKANTAY – HUAYRACMACHAY – CHAULLAY
We will wake up early at 05:30 am (approx.), after breakfast we will start the day's walk towards the highest point of the entire route. (Open Salkantay) approx. 7 km. The ascent will be on rocky and steep terrain in the middle of the valley and the imposing Apu Salkantay with sections that will test not only resistance but also good acclimatization. Once at the top, you will appreciate the spectacular landscapes of the Salkantay snow-capped mountains, the second highest mountain in the Cusco region.

THIRD DAY CHAULLAY | LA PLAYA – HIDROELECTRICA – AGUAS CALIENTES
At 6 am. After breakfast, we will start a walk through trails surrounded by fauna and now cloud forest where you can appreciate the great variety of different fruits such as bananas, avocados, granadillas and passion fruit, our walk through the valley is approx. 6 hours / 7 km. During the walk we will continue appreciating landscapes with small waterfalls, orchids and animals in the area.

FOURTH DAY MACHU PICCHU EXPLORATION "WONDER OF THE WORLD"
After breakfast very early at your hotel, we will go up to the Machu Picchu sanctuary and enjoy a guided tour of the main buildings of the citadel for a duration of approx. 2 hours.
For those looking for a more physical challenge, we have the options of climbing Huayna Picchu Mountain or Machu Picchu Mountain, where you will have great views of Machu Picchu.
In the afternoon, you must return to the town of Aguas Calientes to collect your belongings from the lodging and take your train back to Ollantaytambo at 4:22 p.m., where our transportation back to Cusco will wait for us approx. at 8:00 p.m.

THE TOUR SERVICE INCLUDES
■

Briefing: Informative session one night before the adventure, location can be at your office or hotel (17:00 hrs).

■

Transportation: Pick-up from your hotel in Cusco in the morning and transfer by private vehicle to Challacancha.

■

01 night at Salkantay Sky Camp (double accommodation).

■

01 night at Andean Huts (double accommodation).

■

01 night at Jungle Domes (double accommodation).

■

01 night at the hotel in Aguas Calientes (double accommodation).

■

One sleeping mat or mattress per person (our sleeping mats are 2.5 inches thick, mattress-type).

■

Tents: Kitchen tent, dining tent with tables and chairs.

■

Professional bilingual guide (one guide for groups of 2 to 10 people and two guides for groups of 12 people).

■

Guided visits throughout the trip.

■

Cook and kitchen assistant.

■

Mules to carry tents, food, and kitchen equipment.

■

Mules to carry up to a maximum of 7 kilos of personal belongings per person.

■

Meals: 4 breakfasts, 4 lunches, and 4 dinners (vegetarian menus, special diets, or accommodations for allergies are available at no additional cost).

■

Snacks on days 1, 2, 3, and 4.

■

First aid kit, including oxygen bottle for emergencies.

■

Entrance fees and permits to tourist sites and archaeological sites.

■

Entrance ticket to the Machu Picchu citadel.

■

Return train from Aguas Calientes to Ollantaytambo at 16:22 hrs.

■

Transfer from the train station (Ollantaytambo) to your hotel in Cusco.

■

Boiled water every morning (1 liter per person).
The tour DOES NOT INCLUDE
■

Huayna Picchu or Machu Picchu Mountain entrance (US$ 25 per person).

■

Salkantay Trail entrance (S/.10 per person).

■

Day 1: Breakfast.

■

Day 5: Lunch and dinner.

■

Sleeping bag, our sleeping bags are -15°C and include polar sheets. (USD $15.00).

■

Aguas Calientes - Machu Picchu bus tickets (one way) (USD $12).

■

Trekking poles (USD $10.00 - 2 poles).

■

Hidroeléctrica - Aguas Calientes train (USD $31).

■

Duffel bag.
WE RECOMMEND BRINGING THE FOLLOWING PERSONAL EQUIPMENT
■

Rain poncho

■

Sunscreen

■

Insect repellent

■

Towels

■

Sandals

■

Sunglasses

■

Others
■

Start date of the tour.

■

Names (as they appear on the passport).

■

Surnames (as they appear on the passport).

■

Scanned Passports or IDs (Required).

■

Bring a copy of the Immigration Card (TAM) that will be given to you upon entering Peru.

■

Nationality.

■

Passport number.

■

Date of Birth.

■

Name of your hotel in Cusco.

■

Contact phone numbers.

■

50% payment of the tour cost.

■

Prices are promotional and for cash payments. If paying with a credit card, an 8% surcharge will be applied to the total amount.

■

Minimum passport validity of 6 months.
Book your tour or make your inquiries