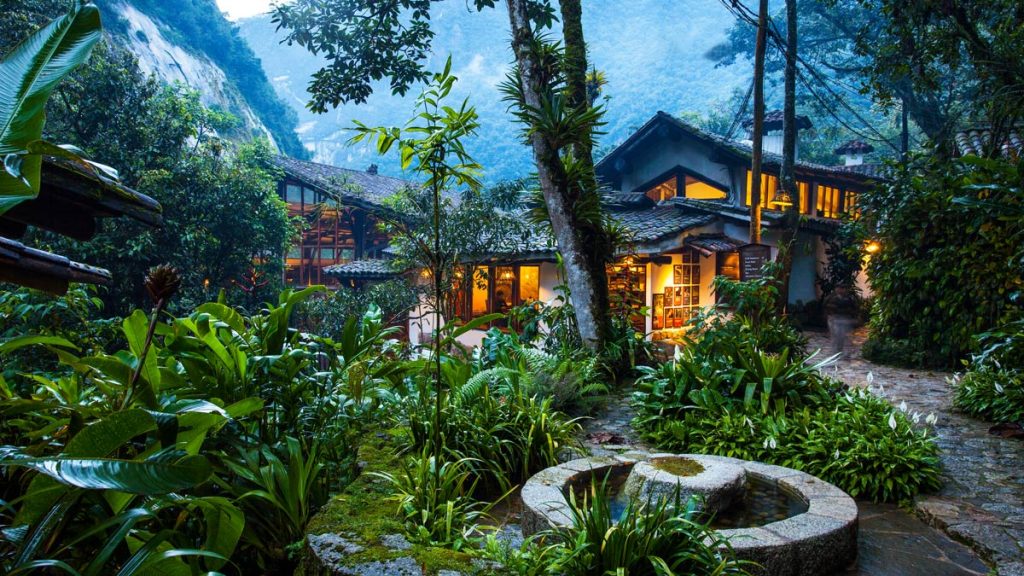 Inkaterra Machu Picchu Town Hotel
Welcome to the official website of Inkaterra Machu Picchu Town Hotel, your gateway to an unforgettable experience in the heart of the Peruvian Andes. Nestled in the charming town of Aguas Calientes, our hotel offers a tranquil retreat for travelers seeking to explore the iconic Machu Picchu and immerse themselves in the rich cultural heritage of the region.
About Inkaterra Machu Picchu Town Hotel
At Inkaterra Machu Picchu Town Hotel, we pride ourselves on providing exceptional service, luxurious accommodations, and a range of amenities designed to make your stay truly memorable. Our eco-friendly hotel blends harmoniously with the surrounding natural beauty, offering a serene and peaceful atmosphere for our guests.
Accommodations and Amenities
Our hotel features a variety of well-appointed rooms and suites, each tastefully decorated and equipped with modern amenities to ensure your comfort. Whether you choose a Deluxe Room, Suite, or the exclusive Andean Cottage, you can expect utmost privacy and relaxation during your stay. Indulge in our spa facilities, where you can rejuvenate your body and mind with a range of therapeutic treatments inspired by ancient Inca traditions. Our outdoor swimming pool offers a refreshing escape, while the charming gardens provide the perfect setting for a leisurely stroll.
Activities and Excursions
Immerse yourself in the breathtaking beauty of the surrounding mountains and explore the rich cultural heritage of the region with our curated activities and excursions. From guided hikes to Machu Picchu and the awe-inspiring Huayna Picchu mountain to birdwatching tours and visits to local communities, there is something for everyone to enjoy. For those seeking adventure, we offer thrilling activities such as zip-lining, river rafting, and mountain biking. Experience the magic of the Andes as you embark on these unforgettable adventures.
Dining Options
Savor the flavors of Peru at our on-site restaurant, where our talented chefs create exquisite dishes using locally sourced ingredients. From traditional Peruvian cuisine to international favorites, our menu offers a wide selection of delectable options to satisfy every palate. Pair your meal with a fine selection of wines, cocktails, and spirits, and enjoy a memorable dining experience in our elegant and inviting restaurant.
Location and Surroundings
Located just a short distance from the entrance to Machu Picchu, our hotel provides convenient access to one of the world's most iconic archaeological sites. Surrounded by lush greenery and towering mountains, our tranquil setting offers a peaceful retreat amidst nature's splendor. Explore the charming town of Aguas Calientes, with its vibrant markets, quaint shops, and local attractions. Immerse yourself in the vibrant culture and history of the region as you stroll through the streets and interact with the friendly locals.
How to Get There
Getting to Inkaterra Machu Picchu Town Hotel is a breeze. From Cusco, you can take a scenic train ride through the picturesque Sacred Valley to Aguas Calientes. Alternatively, you can opt for a thrilling trek along the famous Inca Trail, which offers breathtaking views and a truly unforgettable experience. Our hotel is located just a short walk from the train station in Aguas Calientes, making it easily accessible for our guests.
Booking and Reservations
To book your stay at Inkaterra Machu Picchu Town Hotel, simply visit our website and use our secure online booking system. Alternatively, you can contact our friendly reservations team who will be happy to assist you with your booking and answer any questions you may have.
Reviews and Testimonials
Don't just take our word for it – read what our guests have to say about their experience at Inkaterra Machu Picchu Town Hotel. From the warm hospitality to the stunning surroundings, our guests rave about their unforgettable stay with us.
"A truly magical experience. The hotel is a hidden gem in the mountains, and the staff went above and beyond to ensure our stay was perfect." – Sarah K.
"The accommodations were luxurious, the food was delicious, and the excursions were incredible. I can't recommend this hotel enough!" – John M.
"The perfect blend of relaxation and adventure. We loved every minute of our stay and can't wait to come back." – Emily R.
Conclusion
Experience the beauty and tranquility of the Andes at Inkaterra Machu Picchu Town Hotel. With luxurious accommodations, exceptional service, and a range of activities and amenities, we guarantee you a truly unforgettable stay in one of the world's most iconic destinations.
Frequently Asked Questions
1. What are the check-in and check-out times at Inkaterra Machu Picchu Town Hotel?
Check-in time is at 2:00 PM, and check-out time is at 11:00 AM.
2. Can I book tours and excursions through the hotel?
Yes, our hotel offers a range of curated tours and excursions that can be booked through our concierge. Whether you want to explore Machu Picchu or embark on a thrilling adventure, our knowledgeable staff will assist you in planning the perfect itinerary.
3. Is there Wi-Fi available at the hotel?
Yes, complimentary Wi-Fi is available throughout the hotel, allowing you to stay connected during your stay.
4. Are pets allowed at Inkaterra Machu Picchu Town Hotel?
Unfortunately, pets are not allowed at our hotel. We apologize for any inconvenience this may cause.
Book your tour or ask your questions