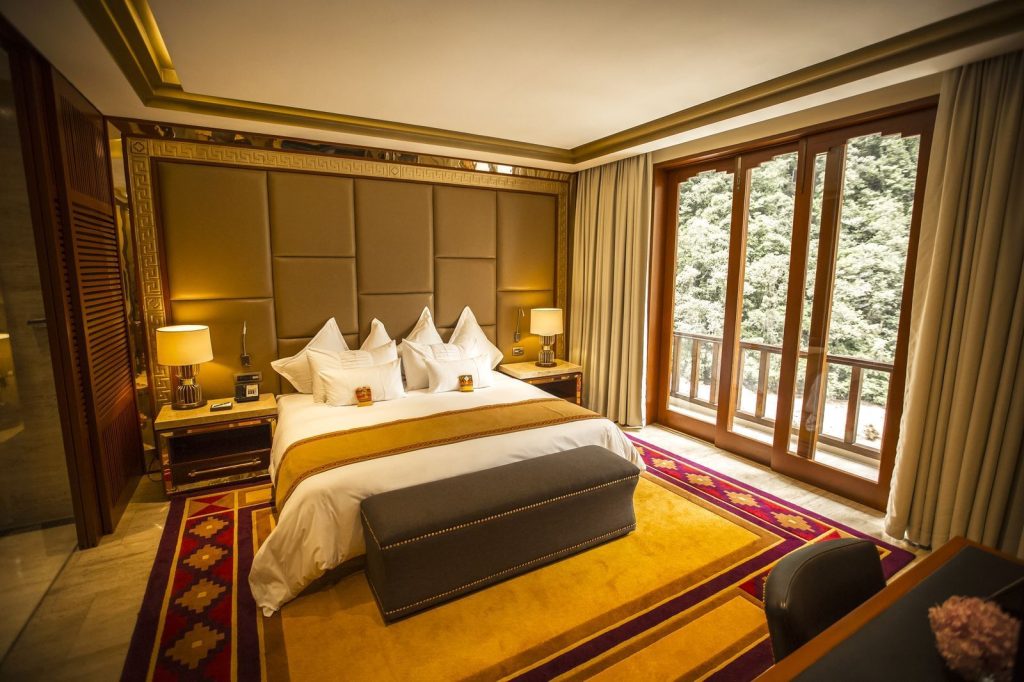 mWelcome to Sumaq Machu Picchu Hotel, a luxury retreat nestled in the breathtaking Andes Mountains. Whether you are seeking a romantic getaway or an adventurous escape, our hotel offers the perfect combination of comfort, elegance, and natural beauty. Let us guide you through the unique features and experiences that make Sumaq Machu Picchu Hotel an unforgettable destination.
Location and Accommodations
Situated in the heart of Aguas Calientes, our hotel provides convenient access to the iconic Machu Picchu ruins. Immerse yourself in the lush surroundings as you unwind in our well-appointed rooms and suites. Each of our accommodations is designed with your comfort in mind, featuring modern amenities and stunning views of the mountains or the Urubamba River.
Dining and Cuisine
Indulge in a culinary journey at our exquisite restaurants. Our talented chefs combine traditional Peruvian flavors with innovative techniques to create a gastronomic experience like no other. From fresh seafood to locally sourced ingredients, every dish is a masterpiece. Don't forget to pair your meal with a selection from our extensive wine list, showcasing the best of Peru's vineyards.
Activities and Excursions
Embark on a variety of activities and excursions that will allow you to fully immerse yourself in the wonders of the Andes. Explore the ancient Inca Trail, hike to the majestic Huayna Picchu mountain, or take a guided tour of Machu Picchu to uncover its mysteries. For adventure seekers, we offer thrilling options such as zip-lining, river rafting, and mountain biking.
Wellness and Spa
Indulge in ultimate relaxation at our wellness center and spa. Rejuvenate your mind, body, and spirit with a wide range of treatments inspired by ancient Inca traditions. From soothing massages to revitalizing facials, our expert therapists will ensure you leave feeling refreshed and renewed.
Local Culture and Traditions
Experience the richness of Peruvian culture through our immersive activities. Learn about traditional weaving techniques, participate in a Pachamanca ceremony, or try your hand at making Pisco Sour, Peru's famous cocktail. Immerse yourself in the vibrant music, dance, and folklore that make up the fabric of this remarkable country.
Sustainability and Environmental Commitment
At Sumaq Machu Picchu Hotel, we are committed to preserving the natural beauty and cultural heritage of the Andes. We strive to minimize our ecological footprint through sustainable practices, such as energy conservation, waste reduction, and community engagement. By staying with us, you contribute to the preservation of this unique environment for future generations.
Testimonials from Guests
"An unforgettable experience. The hotel's attention to detail and personalized service exceeded our expectations. Highly recommended!" – Sarah and Mark, Australia
"Sumaq Machu Picchu Hotel is a hidden gem. We were blown away by the stunning views, luxurious accommodations, and outstanding cuisine. A truly magical experience!" – Javier and Maria, Spain
"From the moment we arrived, we were treated like royalty. The staff went above and beyond to ensure our stay was perfect. We can't wait to return!" – John and Emily, United States
Prices and Booking Information
For pricing details and to make a reservation, please visit our website or contact our friendly reservation team. We offer a range of packages and promotions to suit every traveler's needs. Book your stay at Sumaq Machu Picchu Hotel today and embark on an unforgettable journey in the heart of the Andes.
Conclusion
Sumaq Machu Picchu Hotel is more than just a place to stay – it is an experience that will leave you with memories to last a lifetime. Immerse yourself in the natural beauty, rich culture, and warm hospitality of Peru. Whether you seek adventure, relaxation, or a combination of both, our hotel offers the perfect setting for your dream vacation.
Frequently Asked Questions
1. What is the best time to visit Sumaq Machu Picchu Hotel?
The best time to visit Sumaq Machu Picchu Hotel is during the dry season, which runs from May to September. During this time, the weather is mild and ideal for outdoor activities.
2. What are the transportation options to reach the hotel?
You can reach Sumaq Machu Picchu Hotel by train or bus from Cusco. The train journey offers stunning views of the Andes, while the bus ride takes you through picturesque landscapes.
3. Are there any activities for children at the hotel?
Yes, we offer a range of activities and amenities for children, including kid-friendly menus, outdoor games, and educational workshops. Our dedicated staff will ensure that your little ones have a memorable and enjoyable stay.
4. Can I arrange a private tour to Machu Picchu from the hotel?
Absolutely! Our concierge team can help you arrange a private tour to Machu Picchu, tailored to your preferences. Explore the ancient ruins at your own pace and immerse yourself in the magic of this UNESCO World Heritage site.
Book your tour or ask your questions