Vinicunca Adventure Tour - Rainbow Mountain 1 day

Very early in the morning at 4:00 am we will go through your hotel in our private tourist transport, and then we will move on the route to the south of the city of Cusipata-Paucarpata. We will travel for approximately 2 hours where we will enjoy a delicious buffet breakfast ( scrambled eggs, cheese, ham, fruit salad, hot drinks etc.). After breakfast we will continue for approximately 40 minutes to the control point, this is where we will start the hike. Once you reach this point, our guide will give you the instructions and recommendations for the route along with the last steps to finally start.
The walk will last us approximately 1 hour and 20 minutes until we reach Vinicunca or mountain of colors 5020 masl. On the way we will observe the fauna of the area, the llamas and alpacas that are at the mercy of shepherds dressed in beautiful typical costumes of the region stand out. Then passing through beautiful ravines heading to the highest parts, surrounded by snow-capped peaks (Ausangate), almost upon reaching the top we will observe the change in the landscape, the colored mountain range of Vinicunca (5020 m/16,466 ft.). Arriving at this point between 10:30 to 11:00 am. Here our guide will explain in detail about the orography, ecosystem and color of the mountain, to then take the most beautiful photos of the mountain of colors from another horizon, see the beautiful landscape from 5080 meters above sea level, after For this we will take the return route through the viewpoint of the Red Valley, Red Mountains, walk through this ecosystem considered Andean desert, last visit to another point in Vinicunca for photos, and return to Llaqto, where our vehicle will be waiting. Then we will have our delicious buffet lunch variety of Novo Andean food. Then return to the city of Cusco arriving at the imperial city at approximately 5:00 pm.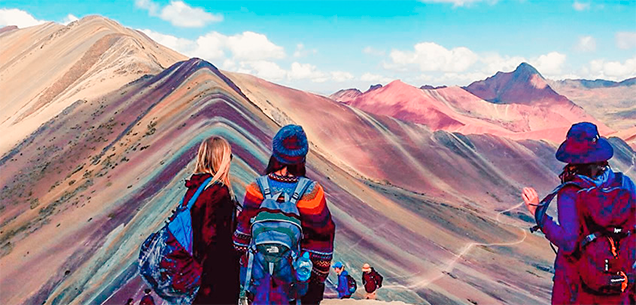 RATES - TOUR PRICES PER PERSON - 2023
| Dólares | Soles | |
| --- | --- | --- |
| USD 70 | S/. | Por persona (servicio compartido) |
Important
– Prices do not include IGV for Peruvian passengers.
THE TOUR SERVICE INCLUDES
■

Transportation (round trip).

■

01 Breakfast.

■

01 Lunch

■

Repair Kit

■

Professional Guide

■

Entry
THE TOUR SERVICE DOES NOT INCLUDE
■

Horses S/ 90.00 + muleteer S/ 30.00< /li>

■

Food not described.

■

Tips.

■

Travel and accident insurance
WE RECOMMEND BRINGING THE FOLLOWING PERSONAL EQUIPMENT
■

Rain poncho

■

Water Bottle

■

Hat, sunscreen, sunglasses</ li>

■

Cold weather clothing

■

Walking poles

■

Snacks

■

Trekking shoes
■

Tour start date.

■

Names (as shown on passport) li>

■

  Surname.(as it appears on the passport)< /li>

■

Scanned passports or IDs (Required)

■

Bring a copy of the Migration card (TAM) the which you will be given upon entering Peru

■

Nationality.

■

Passport number.

■

Date of Birth.

■

Name of your hotel in Cusco

■

Telephone numbers to contact them

■

Payment of 50% of the cost of the tour.< /li>

■

  Prices are promotional and for cash payments If you pay by credit card, you will be charged an 8% total.

■

  Minimum passport validity of 6 months. li>
Book your tour or make your inquiries